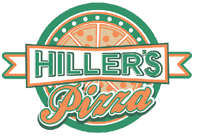 Hiller's Pizzeria
We can promise satisfaction because all dishes at Hiller's Pizzeria are freshly prepared every day with premium ingredients.
---
Hiller's Pizzeria has established a reputation for providing the highest quality food, excellent customer service and prompt delivery to our customers in the Hopkinton area. Whether you visit our dining room or outdoor patio, stop by for pickup, or enjoy our convenient delivery service, make Hiller's Pizza your first choice for the outstanding service you deserve and delicious food you crave!
We are open 7 days a week!